This is so exciting for me.....I don't know who is more excited, me or the couples who have entered into the contest. Firstly, thanks to all of you who entered. Your stories have been very touching, they have made me smile and some have made me cry, but the bottom line is two people in love.....
SOME IMPORTANT DETAILS:
The winning couple will be chosen by YOU, the blog viewers.....it is up to you and your friends and family to send in your votes to me at KAMA@CANDIDKAMA.COM One vote per person please...all you need to do is cast your vote for couple #1, #2, or #3. Voting ends at 5pm on Sunday, Feb 14th. The announcement will be made of the winning couple at 8pm on Sunday, Feb 14th.
In subject line, please put Vote for Free Wedding Photography Give-Away.
THE WINNERS WILL RECEIVE:
The AMOUR Package includes:
Up to six hours coverage from Candid Kama Photography
Online Gallery of all images
Make-Up Services provided by Jade of Bella Bride
Without further a-do......here are the three finalists and their stories........
#1 Chelsea and Brandon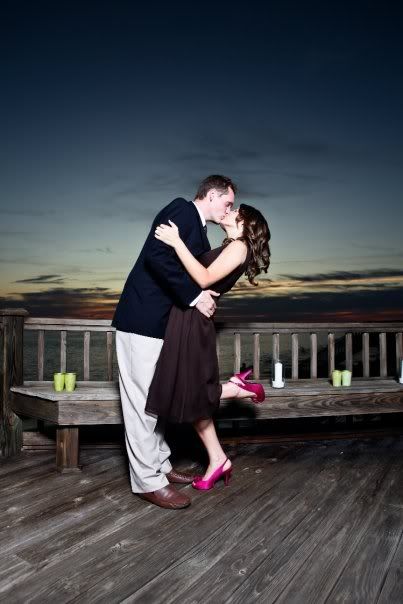 THEIR STORY:

I'm writing to nominate my little sister, Chelsea, and my soon to be brother-in-law, Brandon, for your wedding photography giveaway! First, I'll give some background on the beautiful couple . . . Chelsea and Brandon went to middle and high school together, but their story did not start there. Although they were in the same grade, in the same small school, their paths rarely crossed since they ran in different circles. Alas, both graduated and went their separate ways, one to college and the other to a full time job. But as fate would have it, the two would meet again on the streets of their hometown one Fall evening. Brandon was driving through downtown when Chelsea, who was out with friends, recognized him at a stop light. With a little bit of liquid courage, Chelsea called out Brandon's name in an effort to gain his attention. Brandon more than a little confused he waved hello and pulled over. A week after that night the two went on their first date, which ended with a moonlight dance outside her dorm.

Five years (to the day) later, Brandon got down on one knee and asked Chelsea to make him the happiest man in the world by being his wife.
WHY DO THEY DESERVE TO WIN:
Towards the end of an unforgettable summer, my now husband Mike, proposed to me. After all the tears and laughter had subsided, he told me there was one more surprise. He told me Brandon was also going to ask Chelsea to marry him. Excited and shocked I asked how he knew, when he was going to do it, etc. I needed all the details!

He explained that unbeknownst to either of them, both guys were shopping for rings from the same jeweler at the same time, literally working with the same saleswomen. During a softball game, Mike told Brandon he was going to pop the question to me before I left for school, Brandon looked stunned and then told Mike he was going to ask Chelsea the same thing. Both had planned to ask our father permission to marry us the following day at a family picnic. As Mike and Brandon talked through the logistics of two sisters getting engaged at the same time, they soon came to realize each of their girls deserved our own time to bask in the glow of engagement. So Brandon graciously stepped aside and told Mike to ask me. After a long four months of waiting, with a ring in his pocket, Brandon was finally able to give my sister the surprise of her life!

While Mike and I planned the wedding of our dreams for the following Fall, Chelsea and Brandon's dreams took a backseat. Because our parents weren't able to give both of us a wedding in the same year, Chelsea and Brandon would have to wait over two years from their engagement to get married. Throughout our planning my sister always had a smile on her face and was first person to offer help. She put on her brave bridesmaid gameface and never mentioned her own wants or needs. While I tried on wedding gowns, tasted cake, and picked out flower arrangements, my sister with a ring on her finger smiled and made me feel like I was the only bride in the world. Mike and I got married on October 24, 2009 with Brandon and Chelsea by our sides. And now we would love for nothing more than to give them all the love, help, and encouragement they gave to us.

Nominated by Chelsea's sister, Kiera.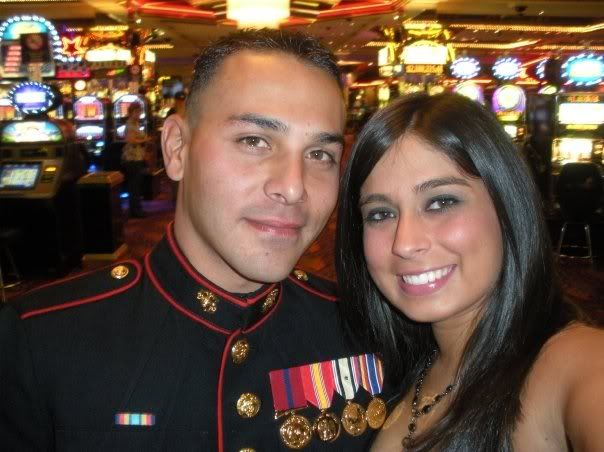 THEIR STORY:
We officially met in 2003. However, we both moved to
Ohio
in 1997 (Joe moved from
California
and I moved from
Florida
) and went to the same middle school. Although we went to the same middle school and high school, we never spoke! My freshman year of college, we met through a mutual friend, Justin. We didn't talk much then either, but one day, I had just left the drive-thru at Taco Bell with my friend Anne and Joe happened to pull up after us with his friend, Mike. He yelled out his window and I went over to his car. He asked for my number, which I put on a napkin and told him not to sneeze on it (or else he'd lose my number!) Joe called the very next day and we arranged to meet at Comm Fest that afternoon. We met there with our friends, Anne and Matt, and the rest, is history.
Joe joined the Marines four years ago. He went to Iraq for 10 months and came home in 2008. He is currently stationed in Twentynine Palms, California. He was able to come home this past
Christmas
for a month, but I'd been working every day since he got home. He kept trying to make plans to go to the zoo (which I later found out was because he wanted to propose there under the
Christmas lights
), but I kept picking up shifts at work. Finally, on Christmas, we went to CVS to pick up some sugar. While we were sitting in the parking lot, Joe couldn't wait any longer and proposed, in typical Joe fashion. So, we got engaged pretty similar to the way we met, outside in a parking lot; I couldn't have asked for a better proposal!
WHY DO THEY DESERVE TO WIN:
We've been through a lot as a couple, but we made it through everything - we're finally getting married to seal the deal! Being able to have the pictures to show how much we love each other is very important to me. I came across your studio on The Knot, I liked what I saw and I was even more excited when I saw that you were holding a contest. We are on an incredibly tight budget; although I did tell my sister that I'd sacrifice flowers, the transportation, bridal shower, alcohol - anything - to be able to get nice pictures. While I have no problem sacrificing these things, I would truly love the opportunity to get some assistance by winning your contest. On the financial aspect of this, I am also a diabetic and am currently with very poor health insurance. I've had some complications and am currently trying to pay off a hospital visit and ambulance call from December and January. I am sure that I will be able to set up payment plans, but having these large expenses has most definitely cut into our wedding budget and any help would be greatly appreciated.
Nominated by Alex.
#3 ANYA AND ROBERT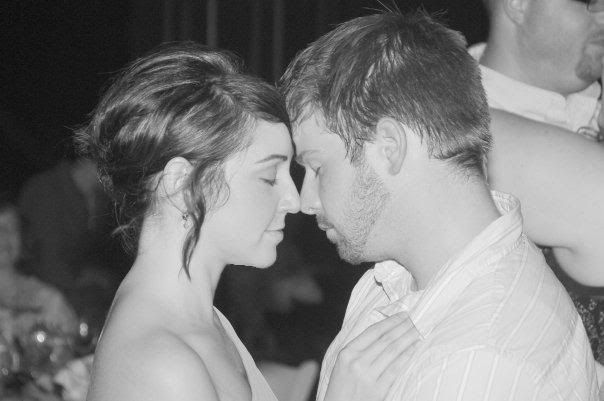 THEIR STORY:
In September of 2006, Anya's fairytale came true and she married her best friend. They had known each other since high school and had grown up together. They went through so much together in the short year and a half that they dated, fighting a demon beyond their control. You see, when she married Michael in 2006, he was in the midst of the fight of his life, literally. Osteosarcoma, a rare form of bone cancer, had completely consumed his body. Michael had been in active treatment for over two years. The summer before they married, the outlook was great. His body was healing and his doctors were optimistic. Either way, nothing was going to stop them from living their life and fulfilling their dreams. On October 10, 2006, eleven days after their wedding, life took a dramatic turn for the worse. On a routine trip to the oncologist for his monthly chemotherapy treatment, Michael was told that his body could not handle any more treatment, and that his cancer was spreading. Over the next six months, Michael and Anya sought any and all alternative treatments, praying for a miracle. On April 3, 2007, four days after their six month wedding anniversary, Michael lost his battle with cancer.
Two days prior, on April 1, 2007, hundreds of miles away, Robert was speaking in front of family and friends as he and his three siblings said a final good-bye to their mother. After battling years of drug abuse and mental illness, Bobbie Sattely's life tragically ended, leaving behind her four children. Robert was no stranger to tragedy however, his life until the age of 12 was spent running from his mother's drug dealers and moving from place to place, living in motels or staying with any family they could find. The children were finally moved out of their mother's custody, and all went to live with different families. Robert struggled to get through high school, and at one point even dropped out. With the help and guidance of a generous family who took him in at his lowest point, Robert not only graduated high school, but went on to study abroad in Germany and was accepted to Hocking College as a nursing student.
After two years of soul searching and healing, and inspired by what she had been through, Anya decided to begin nursing school at Hocking College. While sitting in clinical math class, Anya and Robert struck up a great friendship and became nursing study partners. After two months of great conversation, coffee shop study sessions, and romantic dates, there was no denying the feelings they had for one another. The tragedy these two had both been through in their life, led them to meet the love of their life. Robert and Anya knew what it meant to be truly in love, and to never ever take that love, or life, for granted. They enjoy each other more and more with every passing day. They share the same hopes and dreams, and long to have the happy and fulfilled life they have always sought out.
The week of Christmas, 2009, Robert proposed to Anya, and she of course, said yes.
They exemplify living life to the fullest, making beauty out of tragedy and loving without measure.
Congrats to you all, and good luck!
Labels: Contests